Understanding Google Analytics, Tag Manager, and Search Console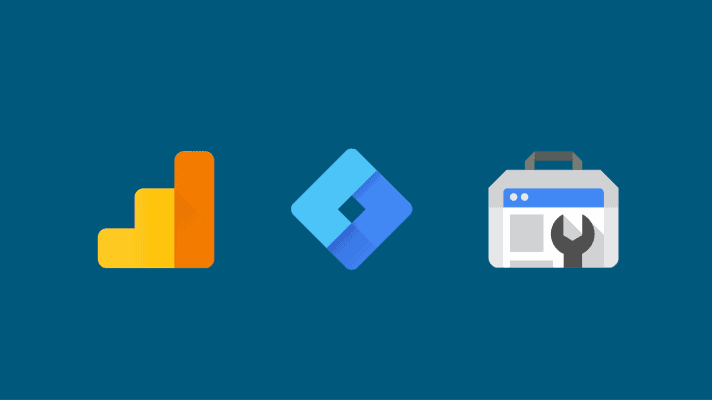 Google Analytics is a free platform that helps anyone with a website better understand their users. It's primary functionality allows you to track and measure the internet traffic going to your website. It also provides key demographics and a lot of other useful information right out of the box. Here's some common language used by webmasters and marketers that implies they're talking about Google Analytics.
"The data in Analytics shows that…"
"Have you checked GA?"
"Form submissions? Yeah, I set up that goal yesterday"
For Google Tag Manager, people often just say GTM (which could be misunderstood as "go-to-market"). For Google Search Console, we just say "Search Console". If we're being lazy it's "GSC".
There are certainly other platforms out there that can be used as alternatives. Some of these are Adobe Analytics, AT Internet, Kissmetrics, Hotjar, Smartlook, and Parse.ly. I'm probably missing a few. Start small if you don't know what you're doing – setting up Google Analytics should always be step 1 even if you're a seasoned veteran.
There's no reason not to.
That's definitely an opinion, but with experience comes wisdom. Plus, if I was Google, and I wanted to understand a website better, I would probably take a peek at their GA data when making decisions about how to rank their pages best. Referencing a website's demographics, most important pages, and more sounds like an awfully logical next place to look after crawling it. Especially if I owned the software and could freely access it. I don't think it's a rankings factor, but just saying.
Alternatives to Google Analytics
Perhaps you like the way that Adobe visualizes data better (it's definitely prettier). That's cool, but you can set that up later. Start with the basics. Aside from GA, all of the platforms outlined above are typically staples for niche use cases. Hotjar was ostensibly the first to really do heat mapping well. Heat mapping essentially shows you a picture of your website with "hotspots" over the areas most users click or hover their mouse above. It points out what draws the most attention and what gets ignored. There's definitely more ways to understand that than just heat mapping, but if you're a very visual person, it's probably going to be the best for you.
Most of the alternatives are going to be paid options due to their niche qualities, which is a great reason to hold off on looking into others if you're new to web analytics platforms. Also, when it comes to heat mapping, Microsoft (who has always sort of lagged behind in this space, e.g. Bing) recently released a beta for its software: Clarity. It's free, and pretty freaking cool. They're essentially trying to take the best of GA and Hotjar and consolidate it under one roof…for free.
Websites are required to be transparent about most advanced tracking
One extremely important note to call out is that the more you track, the more you have to ask permission. Internet privacy is a big topic right now. You've probably seen many websites you frequent show a popup with their Cookie Policy. More on that a different time.
What does Google Search Console do?
Google Search Console is a platform that website owners and webmasters use to monitor organic search performance, the status of pages in Google's index, and get insights about enhancements that can be made to their site.
If you're new to all things Google Search, you might not know that when you make a search on Google the results are not "live". In order to deliver search results fast, Google has to fully understand (to the best of its ability) each page beforehand.
To accomplish this they have to crawl a website and all of its pages and then store them. Google's index is probably the largest archive of information in the world. Think of a never ending room of file cabinets with folders for every website on. It's in the basement of the internet. Each folder contains a copy of all of the pages on each site.
There are two main types of workers that maintain the index. The first type are sorts of librarians, who organize, read, and remember all of the information. The second type are assistants tasked with looking for new websites and changes/updates to ones that are already stored. People refer to these robot assistants as "crawlers" and "spiders" due to the process by which they navigate a website. It's kind of like Monsters Inc and the doors are the links on your pages.
Search Console essentially lets you look at the contents of your website's folder, verify that all of the right pages are in it, and monitor how often its pages are checked out. You can also make the crawlers' lives easier by pinging them when you publish new pages, or if a page got stored that you don't want there. This way each time they're out checking for updates on your website they don't have to crawl through every corner to find a few new pages. It also saves them time because they know which pages are safe to ignore.
What is Google Tag Manager used for?
Google Tag Manager is used for two primary reasons
To more easily configure and maintain complicated tracking
To deploy tracking to a website or application without having to add additional code each time
The easiest way to understand what GTM does is this: it injects code via a Tag into the source code of a website. Triggers are certain events that cause a tag to fire. Examples of triggers are things like clicks on a button, submissions of a form, or simply each time a page loads.
There are all sorts of things you can implement with Google Tag Manager. The most common are things like:
Google Analytics Global Site Tags
Google Ads Conversion Tags
Google Ads Remarketing Tags
Google Optimize Tags
Hotjar Tracking Codes
Facebook Pixels
Pinterest Tags
LinkedIn Insight Tags
Infinity Call Tracking Tags
The platform also has a massive gallery of community templates, which are like plug and play GTM configurations made by 3rd parties willing to share them. Think it like open source software. They can save advanced users a ton of time, and also help amateur users more easily set up complicated tracking.
Next Steps
So now that you're a bit more familiar with Google Analytics, Google Tag Manager, and Google Search Console your next step is to either try setting them up by yourself, or link up with us for a walkthrough. Far too often we talk to businesses that don't realize that their analytics tracking is not set up properly. Unless companies have in-house or outsourced webmasters/SEOs managing their tracking for them, broken tracking often goes unnoticed which almost always leads to unhappy stakeholders or leadership. This can be a huge problem for companies because we all rely on KPIs to make our business decisions.
Request an Analytics Setup Walkthrough
We've got you covered. After you submit this form we'll get in touch to schedule your session.